Soaringmeteo is a non-profit association that provides free weather forecasts for paraglider and hang glider pilots worldwide. So far, thanks to your support, our running costs (servers, hosting) have been covered by your donations. All server support, code maintenance, and administration is done by our small team in our free time.
Today, our lead developer Julien Richard-Foy would like to spend time working on the project before taking on a new job. We request your support by making a donation to him. We want to increase by an order of magnitude the number of points shown in the alpine high-resolution forecast (see the screenshots below).
Donors making significant contributions can request features/changes. We also encourage code contributions from the open-source community.
Why do we need your help?
A couple of years ago, we started rewriting our system from scratch to get something easier to use, easier to maintain, more efficient, and with a higher spatial resolution. We are proud of the current status of soarV2, which provides a forecast with 25 km resolution, worldwide, for the next 9 days.
The next milestone would be to display our high-resolution forecasts for the Alps area (based on the WRF model) in the new interface. The main benefit will be that we will show the forecast results at many more locations than what soarWRF currently does, as shown in the following screenshots.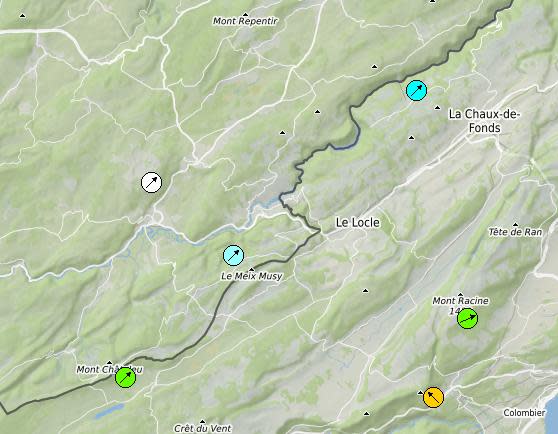 Current view of an arbitrary location in Jura with soarWRF.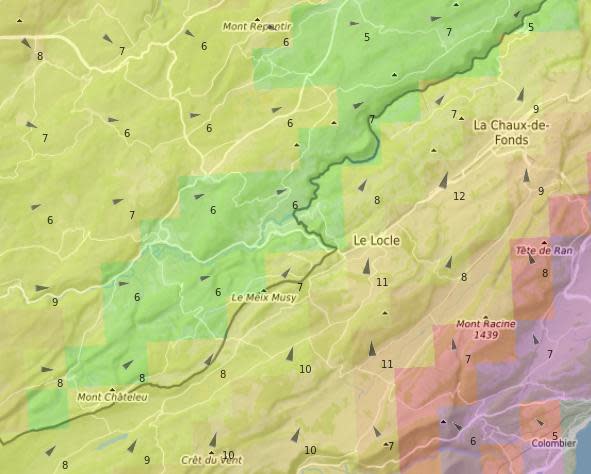 The same location, with a prototype of soarV2. It will show the thermal quality at many more points, and it will show the wind speed for each point.
Getting there requires substantial development, which is why we ask for your help. Our lead developer, Julien Richard-Foy, is temporarily free of professional constraints. Before taking on a new job, he is interested in using his time to work on Soaringmeteo. Since he would have no income during this time, we request your support by making a donation to him.
If you cannot donate money, your code contributions are welcome. The project is open-source and its repository is here: https://github.com/soaringmeteo/soaringmeteo.
How will the collected money be used?
All the funds will be directly collected by our lead developer, Julien Richard-Foy, as a compensation for his work.
Our main priority is to display high-resolution forecasts for the Alps in the new interface, which requires completing the following tasks:
Change the technology we use to display the map overlays to support the resolution of our WRF domain (2 km)
Process the output of the WRF model to produce files optimized for display on the new interface
Update the meteograms and sounding diagrams to support the WRF output
Update the user interface to allow the users to switch between models and areas
A nice side effect is that these changes will allow us to also expand the coverage of the worldwide GFS model (currently, many areas in America, Africa, or Asia are poorly covered), and to further refine the area covered by the WRF model.
If he collects 5,000 €, Julien will be able to work on the project until the end of October. If you donate more money, you will allow him to work even longer on Soaringmeteo! We have many pending tasks such as showing pressure difference graphs, supporting different types of "thermal quality" indicators (the current one is designed for paragliders in mountain terrain but does not work so well on flatlands or for sailplanes), or improving the user experience (especially on mobile devices).
Pass it on!
Please share this page with your friends and contacts to help us raise funds to make Soaringmeteo a better service and ensure its continuity.