Harz meets Pamir Mountains
Organised for:
Studenten der Hochschule Harz
Liebe Alumnis und Förderer der Hochschule Harz, 
Liebe Freunde, Verwandte und Interessierte, 
vielen Dank für Ihr und Euer Interesse an unserem Projekt "Harz meets Pamir Mountains".
Wir benötigen Ihre und Eure Unterstützung für ein besonderes Vorhaben und würden uns sehr freuen, wenn Sie unsere Reise in die Pamir Region und drei touristische Projekte unterstützen. Dabei zählt jeder Euro.
Im Herbst 2016 haben wir an der Hochschule Harz Gäste aus den Pamir Bergen Tadschikistans begrüßen können. Die Volksstimme berichtete dazu:
https://www.volksstimme.de/lokal/wernigerode/hochschule-harz-was-harz-und-pamir-verbindet
Bereits nach dem gemeinsamen Seminar "Abenteuerreisen hier und da - Vom Pamir in den Harz" im November 2016 war uns Studierenden der Hochschule Harz klar, dass wir gerne der Einladung der Studierenden der Univerity of Central Asia (UCA) aus Khorog im Pamir nachkommen wollen.
Unsere Gäste beschrieben in unseren gemeinsamen Workshops und in persönlichen Gesprächen ein Heimatland, geprägt von großer Gastfreundschaft, tollen Abenteuern und einer einzigartigen Landschaft - eine Region, die uns neue Perspektiven der nachhaltigen Tourismusentwicklung zeigen wird und die wir unbedingt entdecken wollen.
Nun organisieren fünf Studenten zusammen mit Prof. Dr. Robert Cowan eine Reise in das Pamir Gebirge.
Mit unserem Besuch in das Pamir-Gebirge möchten wir die bestehenden Kontakte vertiefen und weitere Freundschaften knüpfen.
Geplant ist ein reger Austausch mit Studierenden der UCA, bei dem es sich um Workshops, Ideenaustausch und eine gemeinsame Reise durch die Pamir Region handeln wird.
Wir Studierende möchten voneinander lernen und unsere Gastgeber werden uns Tourismusmanagement-Studierenden aus dem Harz das vorhandene Potential der Tourismuswirtschaft in Tadschikistan zeigen. 
Um die berühmte Gastfreundschaft der Tadschiken zu erleben, werden wir in Khorog bei den Familien der Studierenden der UCA wohnen und unterwegs in Homestays bei lokalen Gastgebern nächtigen. Durch den engen Kontakt erreichen wir, dass diese Reise kein einmaliges Erlebnis bleibt, sondern sich zu einem jährlichen Austausch zwischen der Hochschule Harz und der University of Central Asia entwickelt.
---
Wir wollen zur weiteren Tourismusentwicklung der Pamir Region beitragen und werden das gesammelte Geld sowohl für die Realisierung unserer Reise, aber auch für die Unterstützung folgender drei Projekte nutzen. Von dem gesammelten Geld wird mindestens ein Drittel direkt in der Pamir Region die nachhaltige Tourismusentwicklung fördern.  Anbei sehen Sie eine kleine Kostenaufstellung.
Wir Studenten tragen natürlich einen Teil der Kosten selber da wir diesen Austausch nach Tadschikistan unbedingt wahr werden lassen wollen.
1. The Hunting and Conservation Alliance of Tajikistan H&CAT – Woman & Cat
In muslimischen Ländern wird die Stellung der Frau oft anders wahrgenommen, als wir es aus der westlichen Welt kennen. 2017 wurde mit Hilfe der NGO Pantherea, welche sich um den Schutz von Großkatzen kümmert, das Programm Woman & Cat ins Leben gerufen. Durch die Ausbildung zu Trekking- und Jagdführerinnen in Naturschutzgebieten erhalten Frauen die Möglichkeit, finanziell unabhängiger zu werden. Dadurch können Sie Ihre Position in der Gesellschaft langfristig beeinflussen und verändern.
2. Bau von TTIP (Tourist Toilett in Pamir)
Das Fehlen von Toiletten, wie wir sie aus der westlichen Welt kennen, stellt vielerorts ein Problem für die Tourismusentwicklung dar. Mit den sog. TTIP lassen sich mit vorhandenen Materialien und Werkzeugen kostengünstig Toiletten erbauen. Somit wird ein verbesserter Standard der Homestays im Pamir erreicht.
3. Projekte der "Pamir Horse Advenutres"
Eine Gruppe von Guides mit dem Namen "Pamir Horse Adventures" setzt sich vielfältig für die Entwicklung des Tourismus und für den Umweltschutz in der Pamir Region ein.
Dabei geht es um Projekte wie, z.B. den Bau von Brücken, die nicht nur der Tourismusentwicklung sowie auch lokalen Hirten das Leben erleichtern.
Auch ermöglicht die Organisation die weitere Ausbildung von lokalen Guides und Rangern, um auch die seltenen Tierarten, wie den Schneeleoparden und das Marco Polo Schaf vor Wilderen zu schützen.
Es sollen gesamtheitlich sowohl Bevölkerung, als auch Touristen für den Naturschutz sensibilisiert werden, so dass die Region Pamir auch in Zukunft erhalten bleibt.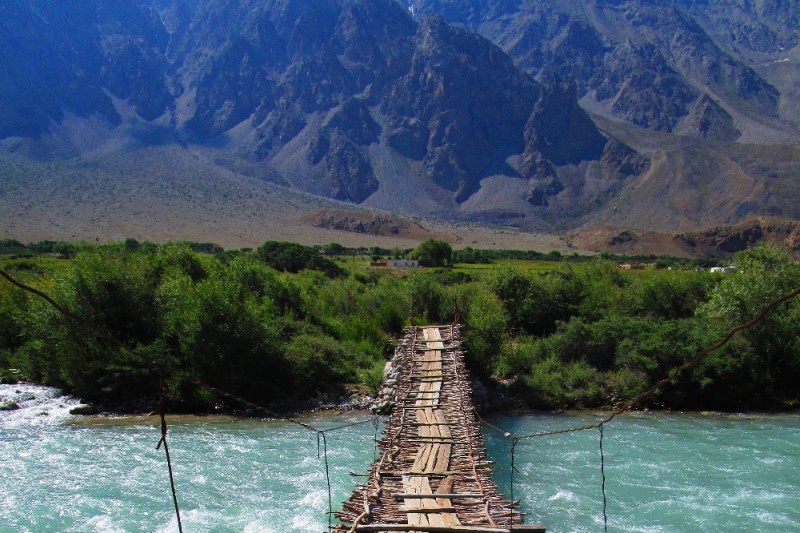 https://2dbdd5116ffa30a49aa8-c03f075f8191fb4e60e74b907071aee8.ssl.cf1.rackcdn.com/11988495_1465229599.2255.jpg
Auch Sachspenden, besonders warme Kleidung wie z.B. Winterjacken, lange Unterwäsche oder Wanderschuhe, sind herzlich willkommen.
---
Wer wir sind:
€406.78
Collected out of €4,500
23 April 2018, Max Wolters wrote:
Als Dankeschön für unsere Unterstützer haben wir uns folgendes überlegt.
Für unsere Unterstützung erhaltet ihr folgendes:
1-49 €: Ihr erhaltet eine Postkarte vom Dach der Welt
50-99 €: Wir bringen euch eine besonderes Souvenir aus dem Pamir mit
100+ €: Ihr bekommt ein Paar handgemachter Pamir-Socken aus Schafswolle
No updates at the moment - remember to keep contributors up to date with your project's latest developments.
Brigitte Layer contributed
Matilde und Sven Gross contributed
Anonymous contributed €25
Otto Kueckmann contributed
Katharina Riess contributed €30
Ulrike Wolters contributed
Matthias Poeschel contributed €50
Anonymous contributed €25