Una silla de ruedas para Santiago! / A wheelchair for Santiago / Un fauteuil roulant pour Santiago / Ein Rollstuhl für Santiago / Una sedia a rotelle per Santiago / A cadeira de rodas para Santiago
---
---
Una silla de ruedas para Santiago
Nuestro amado hijo Santiago, de 4 añitos de edad, cada día nos pregunta: "Mami, Papi" ¿Cuando podre caminar como los demás niños?
Por esa desgarradora interrogante, te pedimos por favor nos ayudes con un donativo que por más pequeño que sea siempre será útil, y así juntos hagamos realidad la ilusión infantil de nuestro Santi, en algún día no muy lejano. Que Dios los Bendiga, eternamente agradecidos.
Santiago José desde los 4 meses de vida quedó parapléjico de miembros inferiores seis días después de ser intervenido de una cirugía cardiovascular; hemos superado gran parte de otras patologías que ha sufrido, sin embargo, hoy a sus 4 añitos requiere de ayudas técnicas que le permitan adquirir una postura lo más adecuada posible o correcta, para prevenir la aparición de cansancio, dolor y deformidades. Hemos hecho de todo para sacar a Santiago de nuestro país y poder salvar su vida, gran parte de los gastos eran cubiertos por la empresa aseguradora, pero han sido suspendidos de manera injustificada dejándonos desprovistos en el extranjero.
Por Favor les pedimos ayúda y apoyo para que juntos podamos ver a Santiago recuperarse; a todos ustedes, que puedan y deseen ayudarnos pueden hacerlo de manera sencilla y segura.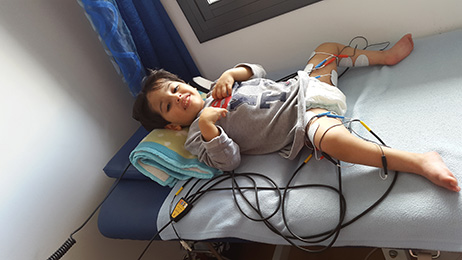 A sus 13 meses de vida fue trasladado a la Ciudad de Barcelona – España, para corregirle el problema del Sistema Respiratorio, lo que le permitió eliminar su dependencia a la ventilación mecánica. También es intervenido para extirpar una adenopatía axilar derecha y A sus 3 años le realizan un cateterismo cardiaco para el cierre de una  Comunicación Intraauricular
Hemos recorrido un largo camino para lograr que Santi pueda sonreír. Se han extenuado nuestras posibilidades economicas como familia y hemos agotado todos los recursos que logramos conseguir.
Santiago José requiere de mucha terapia especializada y soporte tecnológico, aparatos o equipos utilizados en la vida diaria, que le proporcionan en general una mayor calidad de vida y le permitan participar en todas las actividades en el hogar y de la vida escolar, con el propósito de suplir o complementar su limitación, poder conseguir un grado de autonomía y ser Feliz.
Los fondos se destinaran para la adquisición de las siguientes ayudas técnicas y sus respectivos accesorios.

El Diario La Vanguardia nos hace un reportaje y dedica un espacio para relatar nuestra historia !!!Santiago tiene cosquillas en los pies!!!
Si quieres saber mas de nosotros ingresa a este enlace... https://t.co/AEHdqdA0yW
Por Favor colabora con nuestra causa, esperamos que pronto Santiago pueda alcanzar su objetivo de caminar, ganar autonomía y calidad de vida.
Gracias por tu patrocinio para Santiago y tu generosa contribución
---
                           
A wheelchair for Santiago
Our 4 year old beloved son Santiago, asks us everyday "mom, dad, when I will be able to walk like other children?
For that heartbreaking question, we ask you to please help us with a donation,any contribution will be able to help him get his dream come true and will be greatly appreciated.
When Santiago was 4 months old, he had a cardiovascular surgery, six days later, he started suffering paraplegia of the lower extremities.
We have overcome much of other pathologies that he has suffered. However, nowdays he requires technical aids that allow him to acquire the best possible posture and prevent fatigue, pain and deformity.
We have done everything to get Santiago the best medical treatments to save his life. We have spent all our family savings and resources. Much of the expenses were covered by the insurance company, but it was unjustifiably suspended.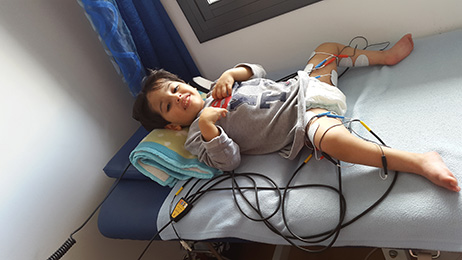 When he was 13 months old we were forced to take him to Barcelona, Spain to correct his respiratory system, which allowed him to eliminate his mechanical ventilation dependence and remove a right axillary adenopathy . He also had a surgery  to preform a cardiac catheterization to close a septal artery.
We have come a long way in getting Santi a smile. We have been working very hard with him and the improvements we experienced are amazing.
Santiago requires a lot of specialized therapy and technological support and equipments used on a daily basis wich provide him better quality of life and allow him to participate in all activities at home and school life, in order to complement his limitation and achieve autonomy and happiness.
The funds are used for the acquisition of the following technical aids and their accesories.

El Diario La Vanguardia makes us a story and dedicated a space to tell our story !!! Santiago has ticklish feet !!!
If you want to know more about us enters this link ... https://t.co/AEHdqdA0yW
Please collaborates with our cause, we hope soon to reach its goal Santiago walking, gain autonomy and quality of life.
Thanks for your help and your generous contribution for Santiago.
---
                     
Un fauteuil roulant pour Santiago
"Maman, Papa" quand est-ce que je pourrais marcher comme les autres enfants ? C'est la question que notre fils Santiago, âgé de 4 ans, nous pose chaque jour.
Cette question déchirante nous pousse à vous demander un don ou un partage. Même le plus petit des dons sera utile pour aider notre fils Santi. Nous vous en remercions énormément.
Alors qu'il n'avait que 4 mois, 6 jours après une opération cardiovasculaire, Santiago est devenu paraplégique. Nous avons réussi à venir à bout de nombreuses maladies qu'il a eu, mais aujourd'hui nous avons besoin d'aide pour acquérir le matériel qui lui permettrait d'avoir une posture la plus correcte possible, afin d'éviter l'apparition de la fatigue, des douleurs et des difformités. Nous avons tout fait pour sortir Santiago de notre pays, le Venezuela, et réussir à lui sauver la vie. La plupart des dépenses étaient couvertes par les assurances, mais ces dernières nous ont été retirées sans raison. Aujourd'hui nous nous retrouvons dans un pays étranger et totalement dépourvus d'aides.
S'il-vous-plaît, nous vous demandons de l'aide et du soutien pour pouvoir aider Santiago.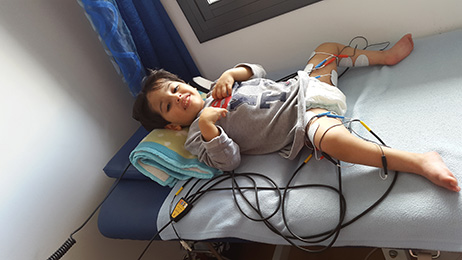 À 13 mois, il a été transporté à Barcelone pour traiter un problème de système respiratoire, afin qu'il puisse respirer seul. Il s'est également fait opérer pour une adénopathie (augmentation anormale d'un ganglion) à l'aisselle droite. À 3 ans, il a eu besoin d'un cathétérisme cardiaque pour combler une  communication  interauriculaire.
Le chemin a été long pour que Santiago puisse retrouver le sourire. Nous arrivons au bout de nos moyens et nous avons épuisé tous les ressources que nous avions réussi à récupérer.
Santiago a besoin de beaucoup de thérapie spécialisée et de matériel, des machines utilisées au quotidien qui lui fourniraient une meilleure qualité de vie et lui permettraient de participer à toutes les activités à la maison et à l'école. Avec pour but de faire oublier ou du moins compenser ses limites, pour qu'il ait un certain degré d'autonomie et puisse trouver le bonheur.
Les fonds seront utilisés pour l'acquisition de matériel et d'accessoires.

Article du journal « La Vanguardia » Santiago a des guili-guili dans les pieds!!!
Plus d'informations... https://t.co/Kc8F9ehcVK
Si vous voulez en savoir plus sur nous... https://t.co/AEHdqdA0yW
S'il-vous-plaît, aidez-nous.
Nous rêvons de voir Santiago marcher et gagner en autonomie et en qualité de vie.
Merci pour votre don ou partage.
---
                               
Ein Rollstuhl für Santiago
Unser 4 Jahre alter Sohn Santiago fragt uns jeden Tag "Mama, Papa, wann werde ich wie die anderen Kinder laufen können?"
Wegen dieser herzzerreißenden Frage, bitten wir Sie, uns mit einer Spende zu unterstützen! Der kleinste Betrag wird  dabei helfen, Santiagos Traum vom Gehen näher zu kommen und wir sind für jede Unterstützung dankbar.
Als Santiago 4 Jahre alt war, hatte er eine kardiovaskuläre Operation. Sechs Tage später begannen seine Lähmungen in den unteren Extremitäten.
Es folgten viele weitere Komplikationen, die wir jedoch weitestgehend überstanden haben. Dennoch ist Santiago heute auf viele technische Geräte angewiesen, die es ihm dabei helfen eine Haltung einzunehmen, um Ermüdung, Schmerz und Deformierungen so gut es geht zu vermeiden.
Wir haben alles getan, dass Santiago die beste medizinische Versorgung erhält und diesen Kamp überlebt. Dafür haben wir alle unsere Ersparnisse und unseren Besitz eingesetzt. Die meisten Ausgaben wurden zunächst von der Versicherung übernommen, aber diese stellte plötzlich die Zahlungen ohne Begründung ein.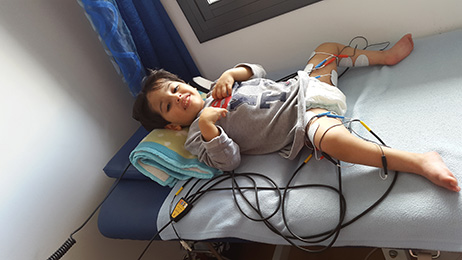 Als Santiago 13 Monate alte war, mussten wir ihn nach Barcelona bringen, um sein Atmungsapparat korrigieren zu lassen, so dass er nicht mehr auf eine Beatmungsmaschine angewiesen sein musste und sich seine rechtsseitige Achseldrüsenerkrankung löste. Er hatte auch eine Herzkatheterisierung, um eine septale Arterie zu schließen.
Wir sind einen langen Weg gegangen, um ein Lächeln auf Santis Gesicht zu zaubern. Wir haben sehr hart gemeinsam gearbeitet und die Verbesserungen, die wir seither sehen, sind beeindruckend.
Santiago ist heute täglich auf Spezialtherapien, technische Unterstützung und Equipments angewiesen, die seine Lebensqualität erhöhen und es ihm ermöglichen an Aktivitäten in der Familie und in der Schule teilzunehmen, um seine Einschränkungen zu kompensieren.
Die Spenden werden für die Bezahlung folgender technischer Hilfsmittel und ihres Zubehörs genutzt:

El Diario La Vanguardia hat über uns und unsere Geschichte berichtet!!! Santiago kann es kaum erwarten!!!
Mehr Informationen (auf Spanisch) ... https://t.co/Kc8F9ehcVK
Wenn Sie mehr über uns erfahren möchten, folgen Sie diesem Link ... https://t.co/AEHdqdA0yW
Bitte unterstützen Sie uns, damit wir unser Ziel, dass Santiago wieder laufen kann, bald erreichen und er seine Autonomie und Lebensqualität widergewinnt.
Danke für Ihre Hilfe und großzügige Spende für Santiago.
---
                       
Una sedia a rotelle per Santiago
Il nostro amato figlio Santiago, di 4 anni, ogni giorno ci domanda:
" Mami, Papi, quando potro' camminare con gli altri bambini ? "
Per rispondere a  questa disarmante domanda, noi ti  chiediamo una piccola donazione, che per piccola che  sia sará sempre utile, e cosi' insieme poter fare realtá il sogno di Santi, in un giorno non tanto lontano. Che Dio vi benedica. ve ne saremo eternamente grati.
Santiago Josè ai 4 mesi di etá è rimasto paraplegico (paralisis arti inferiori ) a seguito di un intervento di chirurgia cardiovascolare; abbiamo superato una grande parte di patologie che ha sofferto , ma nonostante cio' , oggi con i suoi 4 anni richiede di aiuti tecnici che gli permettano di  acquistare una postura il piu' corretta possibile, per prevenire stanchezza, dolori e infezioni. Abbiamo fatto il possibile per allontanare Santiago dal suo paese natale cosi' da poter salvarlo, anche perchè la maggioranza delle spese erano coperte dall'assicurazione, pero'  sono state sospese improvvisamente  e in maniera del tutto ingiustificata ,proprio ora che siamo all'estero.
Per favore vi stiamo chiedendo aiuto e un  appoggio affinchè insieme possiamo vedere Santiago recuperarsi passo a passo; A tutti voi che lo desiderino possono aiutarci in una maniera facile e sicura.
A solo 13 mesi fu trasferito a Barcellona. Spagna, per correggere il problema del Sistema Respiratorio, dove fu possibile interrompere la dipendenza di ventilazione meccanica. Ha subito poi un intervento per estirpare un' adenopatia ascellare destra, e a 3 anni gli hanno realizzato un cateterismo cardiaco per la chiusura di una comunicazione interatriale .
Abbiamo percorso un lungo cammino prima di vedere Santi sorridere. Abbiamo esaurito le nostre possibilitá economiche in famiglia e terminato tutte le risorse che avevamo a disposizione.
Santiago Josè ha bisogno di molta terapia specializzata e supporto tecnologico , apparati e macchine utilizzate giornalmente  e che gliconsentirebbero  una migliore qualitá di vita e gli permetterebbero una Maggiore interazione con l'ambiente di casa e scolastico , nell'intento di fargli acquistare autonomia e sicurezza e regalargli la felicitá che merita.
I fondi saranno destinati all'acquisto dei seguenti macchinari e dei  loro rispettivi accessori.
El Diario La Vanguardia ci rende una storia e dedicato uno spazio per raccontare la nostra storia !!! Santiago ha piedi solletico !!!
Se vuoi sapere di più su di noi entra in questo link ... https://t.co/AEHdqdA0yW
Per favore collabora con la Nostra causa, speriamo che Santiago possa presto raggiungere il suo obiettivo di camminare , guadagnare autonomia e qualitá di vita.
Grazie peri il sostengo a Santiago e il tuo generoso contributo.
---
                     
A cadeira de rodas para Santiago
O nosso filho tao amado, de só 4 anos de idade, cada dia que passa, pregunta para nos: Quando é que eu posso caminar como os outros meninos?
Por causa desta pregunta, que faz tanta dor, te pedimos que por favor nos ajudes, com uma davida que por mais pequenina que seija, sempre vai ser útil, e assim juntos podemos fazer realidade a ilusao infantil do nosso Santi, num día nao tan longe, possa caminar. Que Deus os abencoe, vamos ficar eternamente muito obrigados com todos voces.
Santiago José, desde que tinha 4 meses de nascido, ficou parapléjico dos membros inferiores, aos seis días de haver sido operado dum problema cardiovascular. Temos superado grande parte de outras patologías que ele tem tido, mas aos seus 4 anos precisa de ajudas técnicas que o permitam ter uma postura o mais adequada possivel ou correcta, para evitar que possa aparecer dor, que se canse e tambem deformidades.
Fizemos de tudo para tirar o nosso Santi do nosso País (Venezuela) para assim poder salvar a sua vida; muitos dos gastos eran pagados por uma companhia de seguros, mas foram suspendidos de maneira injustificada, e assim ficamos desprovistos no estranjeiro.
Por favor, pedimos ajuda e todo o apoio possivel para que juntos podamos ver o Santiago recuperar-se.
A todos voces que possam ajudar e tenham o deseijo de ajudar, podem fazer-lo de maneira simples e segura.
Aos seus 13 meses de vida, foi transladado a Cidade de Barcelona (Espanha), para que lhe fizesem correcao ao seu problema respiratorio, o que permitiu eliminar a sua dependencia á ventilacao mecánica.
Também lhe foi feita uma operacao para tirar-lhe uma adenopatía axilar direita; aos seus 3 anos, lhe fizeram um cateterismo cardiaco para poder fechar uma comunicacao intraauricular.
Temos percorrido um caminho muito grande para poder fazer que Santi possa sorrir. Mas, as nossas posibilidades económicas como familia estao ja esgotadas ao consumir todos os nossos recursos e as que pudemos conseguir, atraves das dávidas recebidas.
Santiago José requere de muita terapia especializada e soporte tecnológico, aparelhos ó equipos utilizados na sua vida diaria, que lhe permitam em geral, melhor qualidade de vida e também que o permitan participar em todas as actividades na sua casa e na vida escolar, com o propósito de melhorar a sua limitacao, e poder ter certo grau de autonomía para poder ser feliz.
Os fundos angariados, se destinarán á adquisicao de ajudas técnicas,  seus respectivos accesorios, ou repostos.
El Diario La Vanguardia nos torna uma história e dedicado um espaço para contar a nossa história !!! Santiago tem pés cócegas !!!
Se você quiser saber mais sobre nós entra neste link ... https://t.co/AEHdqdA0yW
Por favor, colabora com a nossa causa, para que o nosso Anjo Santi,  possa caminar, ganhar autonomía e qualidade de vida.
Ficamos muito obrigados com a tua generosa ajuda para com o nosso Santiago.
€1,412
Collected out of €12,500
Organiser
Jimenez Alvarez Ángel Jose
---
Beneficiary
Santiago José Jiménez Páez